Airtrain boss in Brisbane Airport MICE push
MICE News
Thursday, 09 November 2017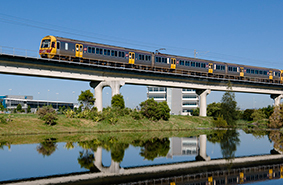 Airport precincts are transforming themselves into spaces that offer more than just a terminal.
Australia's newly-opened Brisbane Airport Hotels Group (featuring Pullman and Ibis hotels and the Brisbane Airport Conference Centre) is now a conference and meetings hub that rivals many CBD facilities, according to Chris Basche, chief executive, Brisbane Airtrain.

Bache says for corporate travellers, conferencing at or near the airport has never been easier, with new facilities using Airtrain.


Situated between the newly developed Pullman and Ibis hotels, the 1,735sqm Conference Centre features 13 conference and meeting rooms and a business centre with the ability to cater for up to 600 people at any one time.
"The Airtrain takes you directly to the domestic terminal, and from there it is only a four-minute walk via a pedestrian walkway to the hotels, making it extremely convenient to access and saving the hassle of parking," said Basche. 
"With more and more business executives in Brisbane to attend meetings and conferences, often for one day, the Centre offers easy access to a meeting area the moment they step off the plane," he said.   
"The impressive number of pre-bookings for the use of the Centre is a strong indication of the positive passenger growth we expect Brisbane to experience over the coming years and beyond."