Lumiere London to be bigger, better in 2018
MICE News
Thursday, 07 December 2017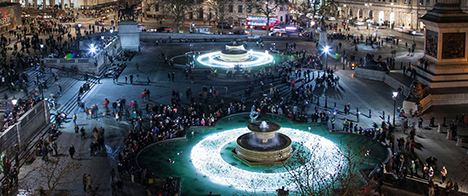 The UK's largest light festival Lumiere London has been hailed as one of the most spectacular free events ever to take place in the capital.
The mayor of London, Sadiq Khan, said: "Lumiere London 2018 (18-21 January) will be even bigger, brighter and bolder than its inaugural event. We will see some show-stopping installations reimagining London's iconic architecture and streets.
"It's a world-class event. Festivals like this showcase London at its international, creative and open best."
Commissioned by the mayor of London, and produced by arts charity Artichoke, Lumiere London is the capital's largest art event and is free to attend.
Following the first Lumiere London in January 2016, which saw 1.3 million visits over the four nights and a visitor spend of I Gbp22 million, the nocturnal festival is designed to show the city in a new light. More than 40 artworks made using the medium of light, will explore the city's most iconic buildings, landscape and architecture. The festival features artists from across the UK, France, Germany, the Netherlands, Spain and Canada amongst others.
Claimed to be bigger, brighter and bolder, the second edition of Lumiere London extends from North to South across the River Thames through six areas: King's Cross, Fitzrovia, London's West End (including Carnaby, Chinatown London, Leicester Square, Mayfair, Oxford Circus, Piccadilly, Piccadilly Circus, Regent Street, St James's, St James's Square, St James's Market and Seven Dials), Westminster and Victoria and Southbank an Waterloo.
The full program will be released early in January 2018.