More buyers attend early 2018 Hong Kong fairs
MICE News
Friday, 12 January 2018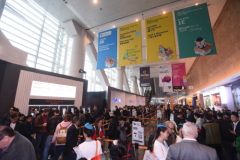 Some 2,940 exhibitors from around the world participated in the Hong Kong Toys and Games Fair, Hong Kong Baby Products Fair and Hong Kong International Stationery Fairs that have just ended.
Together with the Hong Kong International Licensing Show, which closed Wednesday, the first four fairs organised by the Hong Kong Trade Development Council (HKTDC) this year attracted around 126,000 buyers, up around six per cent over the previous year.
More than 49,000 buyers went to the Toys & Games Fair, while close to 33,000 and around 21,000 buyers visited the Baby Products Fair and Stationery Fair respectively. In addition, more than 22,000 visitors attended the Licensing Show.
Benjamin Chau, deputy executive director of the HKTDC, said the four fairs have successfully attracted buyers and suppliers from around the world and further bolstered Hong Kong's role as an international exhibition and sourcing hub.