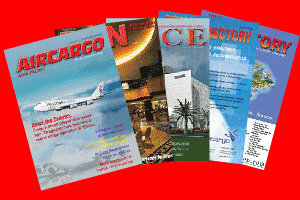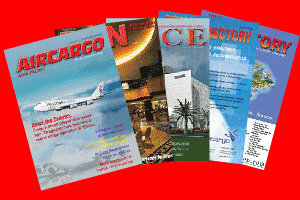 About Impact Publications

Impact Publications was established in 1979 to provide a news and analysis magazine for Australia's travel industry. Its flagship publication Traveltalk was sold after 22 years in recognition of the industry turning increasingly to electronic media for its most important and time-sensitive information. Today, publishers Chris and Sofia Hurd have expanded Impact to report on business travel, meetings and conferences, health and leisure, air freight, logistics and airports. Supported by an expert team of specialist travel industry writers, Impact Publications now publishes, in hard copy and electronically, MICEBTN and the award-winning AirCargo Asia-Pacific - now in its 27th year. Impact Publications also publish an annual Travel & Tourism Directory.

About the magazines

AirCargo Asia-Pacific previously a hard copy changed to a digital E-zine April 2015. All else has remained the same, format, frequency (6 times a year) and editorial content. We delivering news, specialist features, expert commentary and event coverage for the Asia-Pacific region. We update our AirCargo web page daily on week days and publish an E-news roundup of the most important stories weekly. In AirCargo Asia-Pacific is also a recipient of the International Air Cargo Association's "Best Magazine" award.

MICEBTN originally launched in October 1997 as MICE Asia-Pacific. Today it is published quarterly in hard copy, daily on the web site and weekly via E-news. Originally titled MICE Asia-Pacific, the name was changed to better-reflect readership and distribution, which has grown substantially over the years in line with the sector. Our Business Travel News (BTN) is now incorporated in the hard copy MICEBTN magazine each quarter. And the masthead now includes BTN as well as Meetings, Incentives, Conventions and Exhibitions, which comprise the MICE content.

Business Travel News itself was launched in June 2000 as Corporate Traveltalk. When Traveltalk was sold, the magazine was renamed Business Travel News (BTN on the masthead) and later merged with our MICE magazine. BTN-specific stories can be isolated on the MICEBTN website for readers seeking business travel and airline stories specifically.

Travel & Tourism Directory has been published for 34 years. Originally printed twice a year, the title is now published annually. Major changes and updates now also are published on its website.

With our upgraded website (April 2016) Health & Leisure Travel , previously a separate website, has been added as a category option on MICEBTN to give our MB readers more options in travel related new and articles.